Procedure for the management of asbestos-bearing wastes.
Reference terms applied are as follows :

Firmly-bound asbestos : wastes comprised of asbestos in combination with other materials, generated by works associated with reinstatement and demolition operations (asbestos panels, asbestos cement, pipes and ducts, etc.).

Loosely-bound asbestos : friable wastes, waste materials and equipment used during enclosure, fixing and flock removal operations, etc. (debris, single-use personal protective equipment, rags, tarpaulins, etc.).
PAC – Preliminary Acceptance Certificate.
Identification of waste producer (client or owner)
Identification of works contractor
Declaration of type of asbestos
⇓ Acceptance of quote
⇓ Registration of application
Completion of Account Opening Form
Receipt of blank Asbestos Waste Tracking Form (AWTF) for completion
Completion of AWTF – Asbestos Waste Tracking Form
Hazardous Waste Tracking Form for asbestos-bearing wastes
AWTF – Asbestos Waste Tracking Form
To be returned by E-mail or by post :
Signed by the waste producer (client or owner) AND by the works contractor
Entry of seal numbers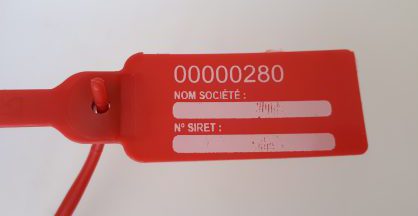 ⇓
Taking of photographs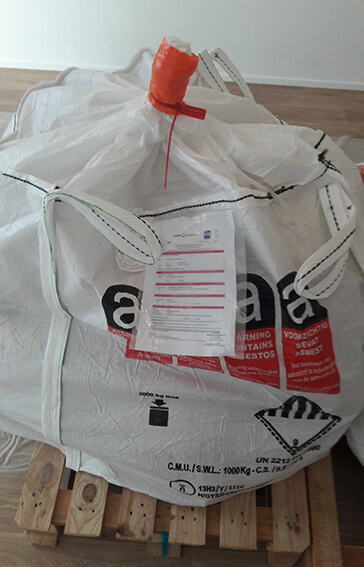 ⇓ Removal
Déchets confiés à l'exutoire
⇓
Retour du BSDA
BSDA signé et validé
Annexe de l'exutoire
Annexe 1 (en cas de transit)
Remplissage du BSDA – Bordereau de suivi des déchets d'amiante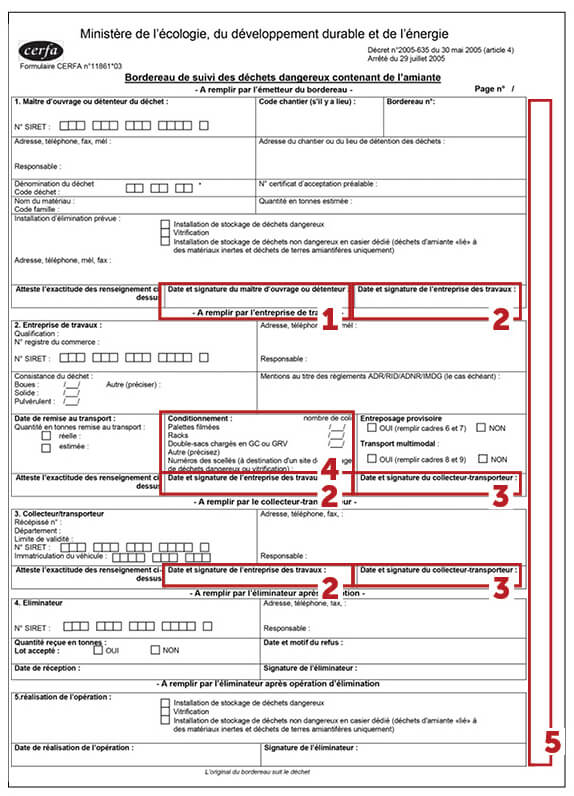 All items are mandatory. It is essential that all items should be completed. The collection of asbestos-bearing wastes can only be executed if all documentary formalities have been completed correctly.
1

Client or owner of waste

Date / Signature

Stamp (for professionals)

2

Works contractor

( must be completed a second time, if identical to the client or owner of waste )

Date / Signature

Stamp

3

Carrier

Date / Signature

Stamp

 

4

Seals number

Mandatory in the case of loosely-bound or firmly-bound asbestos for delivery to a type 1 Final Waste Disposal Site

5

In the event of multiple seal numbers, these should be entered here