Procedure for the management of asbestos – bearing wastes
Reference terms applied are as follows :

Firmly-bound : wastes comprised in combination with other materials, generated by works associated with reinstatement and demolition operations (panels, cement, pipes and ducts, etc.).

Loosely-bound : friable wastes, waste materials and equipment used during enclosure, fixing and flock removal operations, etc. (debris, single-use personal protective equipment, rags and tarpaulins, etc.).
PAC – Preliminary Acceptance Certificate.
Identification of waste producer (client or owner)
Identification of works contractor
Declaration of type of asbestos
⇓ Acceptance of quote
⇓ Registration of application
Completion of Account Opening Form
Receipt of blank Asbestos Waste Tracking Form (AWTF) for completion
Completion of AWTF
Hazardous Waste Tracking Form for asbestos-bearing wastes
AWTF
To be returned by E-mail or by post :
Signed by the waste producer (client or owner) AND by the works contractor
Entry of seal numbers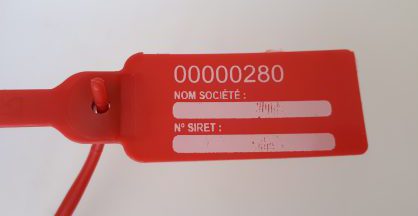 ⇓
Taking of photographs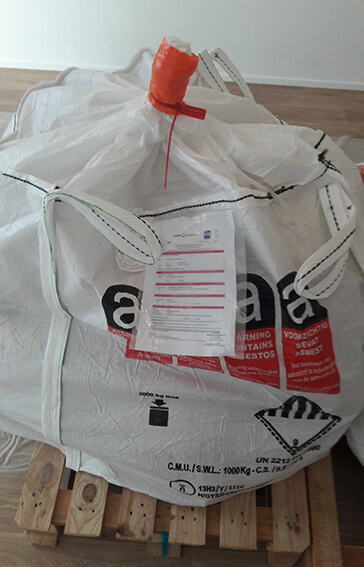 ⇓ Removal
WASTES FOR DISCHARGE
⇓
Return of AWTF
AWTF signed and validated
Discharge annex
Annex 1 (in case of transit)
Completion of Asbestos Wastes Tracking Form (AWTF)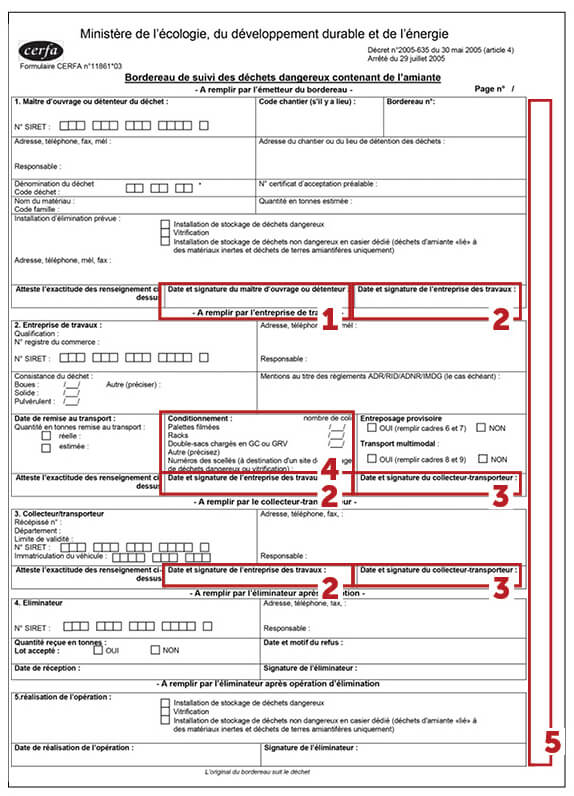 This is an exemple of an AWTF
All items are mandatory. It is essential that all items should be completed. The collection of asbestos-bearing wastes can only be executed if all documentary formalities have been completed correctly.
1

Client or owner of waste

Date / Signature

Stamp (for professionals)

2

Works contractor

( must be completed a second time, if identical to the client or owner of waste )

Date / Signature

Stamp

3

Carrier

Date / Signature

Stamp

 

4

Seals number

Mandatory in the case of loosely-bound or firmly-bound asbestos for delivery to a type 1 Final Waste Disposal Site

5

In the event of multiple seal numbers, these should be entered here